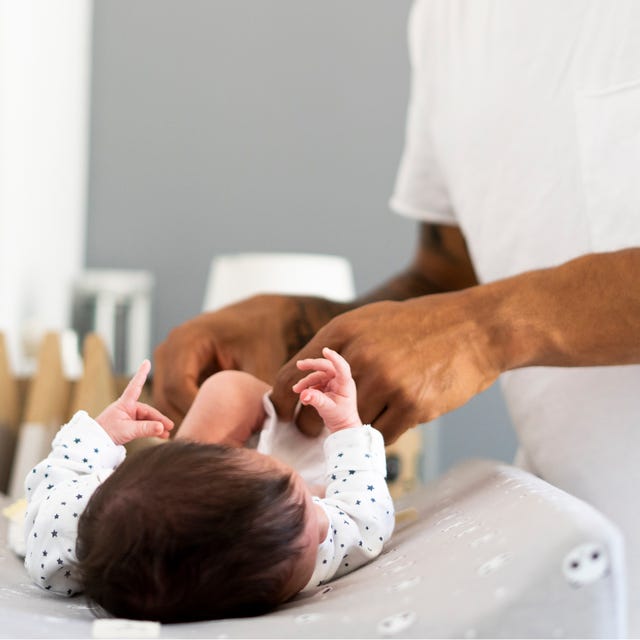 Getty Images
Your new bundle of joy is sweet-faced, smiley, and a pooping machine, which means around-the-clock changes. You have your diapers, your diaper bag, and your rash cream — so now, you need a high-quality diaper-changing pad.
You need something sturdy, washable, and easy to deal with. You don't want anything cumbersome or huge, but you also don't want something that won't protect your furniture or floor, either. It needs to be a balance of size, shape, cleanability, and ease of use.
The Best Diaper-Changing Pads
What to Consider
There are so many options out there: How do you make sure you don't end up with a crappy changing pad? First, you need to think about materials. Your diaper changing pad either needs to be wiped clean with a Lysol wipe, or should be able to be tossed in the washing machine. After all, no one wants to hand-wash a changing pad!
Next you need to consider its use. Are you taking it with you, or are you using it at home? This will determine the size you need, and if you need it to fold up.
Lastly is cost. Spending a ton of cash on something your baby is literally going to poop all over feels like a waste to us.
You can avoid getting the contents of their loaded diapers all over the nursery (and their hands) with these top-rated picks. Whether you have a squirmy baby who can't seem to keep still or you just need a pad that speaks to your love of all things organic, we've found the best changing pads to easily get you through the diaper phase … as long as it may feel.
Advertisement – Continue Reading Below
1
Best for Squirmy Babies
Wipe-Clean Changing Pad
Key Specs
Size: 31 x 18 inches
Material: Wipe-clean foam
Accessories: Adjustable strap, mobile
Changing your babe's diaper can be like trying to wrestle down a wild goat so you can apply lipstick on it. Keep your wiggly little one tamed with this Skip Hop Changing Pad: The comfy spot features a fun cloud-and-sun mobile to keep your little one stationary and focused while you wipe their bum.
More: When the Diaper Days Are Over, You'll Need These Training Pants
2
A Durable Budget Option
Contoured Changing Pad with Plush Cover
Key Specs
Size: 31 x 16 inches
Material: Vinyl-covered foam
Accessories: Cover included
You don't have to splurge on a one-trick changing table: Convert any dresser into a changing area for your baby. This diaper changing pad from Delta Children is a great option for families looking for high quality on a budget, and the removable cover is soft and easy to wash.
3
Easiest to Clean
Changing Pad
Key Specs
Size: 27 x 17 inches
Material: 100% polyurethane
This bright, soft Bumbo changing pad will give baby a happy place to relax while you roll up your sleeves. The security strap and no-slip base make this a perfect changing pad for surfaces around the nursery … as long as you stand close by! We love that it takes less than a minute to wipe down.
4
Best Washable Pads
Waterproof Diaper-Changing Pads (2-Pack)
Key Specs
Size: 27 x 19 inches
Material: 100% fabric core, polyester coating
Many parents just sit on the floor with their babies to change their diapers. These pads are perfect for parents who just want something to throw down to protect the rug from poop explosions. These mats from Amazon are cheap and cheerful, as well as machine-washable.
5
Best Changing Station
3-in-1 Diaper Bag Backpack With Changing Station
Key Specs
Size: 33 x 13 inches
Accessories: Removable insert
It's a changing pad, diaper bag, and portable bassinet — combined. This sturdy bag is only $50, and does the work of several different products. With over 700 perfect ratings on Amazon, this option might be your best bet if you're out and about.
6
Best No-Skid Option
Secure Grip Baby Diaper Changing Pad
Key Specs
Size: 31 x 16 inches
Material: Cotton-covered polyurethane
Rest your sweetie on this changing pad by Munchkin. The foam pad features no-skid grips at the bottom, so you won't have to worry about the pad itself slipping during a messy changing session. It's a huge relief!
7
Best for Clean Hands
Clean Hands Changing Pad
Key Specs
Size: 27 x 26 inches
Material: Polyester
Yes, this is genius! When you're on the go and baby is extra fussy, you'll love having a changing pad that'll keep baby's hands clean and busy. Not only will your little cutie not get dirty, but you'll have an easier time changing their diaper because they'll be preoccupied with the hanging toys.
8
Best Multiuse Changing Pad
Baby Grow Smart Changing Pad
Key Specs
Size: 29 x 16 inches
Material: Green Guard-certified foam
This innovative changing pad from Hatch Baby will be your favorite part of baby's new room.
With the dual function of being a safe place to change your baby's diaper and a super accurate scale, you won't have to wait until the next check-up to know where your baby falls on the growth chart. When you download the app, you'll be able to keep track of your baby's feedings, weight gain, and diaper changes.
9
Best Portable Pad
Sprout Change Mat
Key Specs
Size: 29 x 26 inches
Material: Wipe-clean pad
When you're on the go and need to suddenly change your baby's diaper, this super stylish, portable changing bag from Herschel is a must. With 21 patterns and colors to choose from, you can easily find the pad that fits your parenting aesthetic the best.
When it's folded up, you can carry this pad like a clutch or toss it into your diaper bag. When it's unzipped, the padded surface has reinforced mesh pockets for you to store diaper-changing essentials like wipes, bum cream, and powder.
10
Environmentally Friendly
Deluxe 2-Sided Contour Changing Pad
Key Specs
Size: 33 x 16 inches
Material: Greenguard Gold- and CertiPUR-US-Certified safe foam
You want the best for your baby, but if you're not ready to shell out the big bucks for an organic changing pad, this wallet-friendly pick makes a great alternative. There's no off-gassing of toxic fumes from the cushion, thanks to the GREENGUARD Gold certification. In addition, the filling is CertiPUR-US-certified safe foam, made without flame retardants or formaldehyde.
11
Best Organic Pad
No-Compromise Organic Cotton Changing Pad
Key Specs
Size: 31 x 16 inches
Material: Polyurethane-free foam
You're going to be changing diapers for the next 2 years or more, so if your baby has allergies or you're just super-conscious of the materials they're exposed to, this all-natural pad is a good choice. The safe, hypoallergenic design features organic cotton with a clear, food-grade, waterproof coating.
12
Best Four-Sided Pad
4-Sided Changing Pad
Key Specs
Size: 32 x 16 inches
Material: Vinyl cover
Affordable, comfortable, and easy to clean: What more could you ask for? Summer Infant's popular changing pad has four sides to keep your baby from rolling around during diaper changes, and it can help contain runny diaper leaks from spilling onto the carpet (or you).
Cat Bowen
Parenting Editor
Cat Bowen is the parenting editor at BestProducts.com where she researches all of the best products for families from pre-conception through their teen years, focusing on matching scientific evidence with real-life needs.
Latifah Miles
Parenting Editor
Latifah is the former parenting editor at BestProducts.com where she spent her time researching and testing the latest, greatest, and coolest products created to make parenting a breeze; her work has been featured on Cosmopolitan, Romper, and Elite Daily.
This content is created and maintained by a third party, and imported onto this page to help users provide their email addresses. You may be able to find more information about this and similar content at piano.io
Advertisement – Continue Reading Below