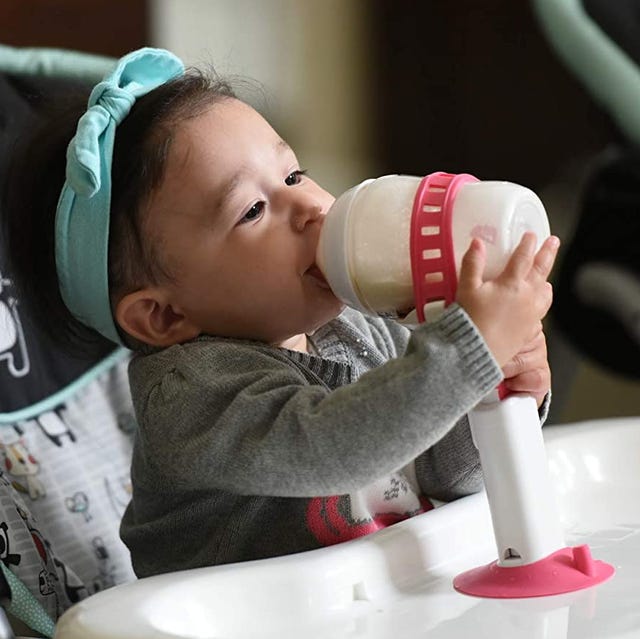 Babaste
Parenting can be tough, but luckily for new parents, we're now living in an era full of baby gadgets that are designed to make the first years of your little one's life go as smoothly as possible. From devices that send an alert when something isn't quite right, to simple, yet genius products that solve small problems in a pinch, there are so many more solutions to everyday issues than there used to be. More and more real parents are getting into the tech space, coming up with new and useful baby gadgets for everyday life that will make your days go by so much smoother.
We've researched and found the most innovative baby gadgets that make the entire parenting experience more efficient and enjoyable. They all adhere to the most-recent Consumer Product Safety Commission (CPSC) guidelines for safe infant and child products, so check out our top picks and stock up: You'll wonder how any new parent ever managed without them!
Advertisement – Continue Reading Below
1
Best for Gassy Babies
Windi Gas and Colic Reliever (Pack of 20)
2
Best Swing
mamaRoo 4 Multi-Motion Baby Swing
Moms across the country swear by this product, and here's why: It's nowhere near your average swing. It has five different motions, all designed to gently swoosh your baby into slumber. It also has four built-in sounds, a Bluetooth speaker, and an AC adapter, making batteries a non-issue.
And yes, the cover is machine-washable.
3
Best Placemat
Silicone Placemat
This placemat is a real multitool when it comes to your baby. It's an easily transportable, clean place for them to eat, it's a play area, it's a plate, and it's even a serving device, thanks to the two skewers.
Four suction areas on the bottom make sure that this placemat isn't going anywhere, so your child's mess won't be falling all over the floor. Well, unless they're throwing their food … in that case, you're on your own.
4
A Great Bath
Baby Bath Support
Baby baths can be a huge pain, but this one is just the opposite. It's incline is perfect, it's easy to clean, it's comfortable for your baby, and best of all? It's under $20.
If it starts to get a bit grimy or gross, the whole thing is plastic. So, you can just wipe it down with some bleach wipes and rinse. You can't do that with a mesh bather!
5
Life-Saving Necessity
Choking Rescue Device Home Kit
We get it: No one wants to think about what might go wrong, but sometimes, they do. Simply put, this product saves lives. In the event that you or your child is choking and the Heimlich isn't working, this devices forces the object out of the throat with a powerful manual suction.
6
Most Engaging Toy
My First Baby Tissue Box
I get that this looks silly, and not at all that important, but darn it if babies aren't over the moon for this toy. It's exactly what it looks like — a toy tissue box with silky tissues. There's just something about the act of pulling them out of the box that mesmerizes babies. And this is 100 times better than doing it with an actual box of tissues: Trust us.
7
Best Teether
Penguin Buddy Never Drop Silicone Baby Teething Toy
This is the most innovative teether to come on the market in a very long time. It's designed to be easy for babies to grip, and because of the "hand trap," they're unlikely to drop it.
Teething and soothing have never been easier.
8
One-Handed Help
Baby Bottle Holder
Ever tried to open a bottle or sippy cup one-handed? Of course you have. Every parent has, and it's impossible.
Well, it was impossible before the Bökee baby bottle holder. You just put the bottle in the cavity, and the grippy silicone holds it in place while you either remove the lid or screw it on. It's a game changer.
9
Best Bottle Brush
Water Bottle Cleaning Brush
Cleaning bottles, sippy cups, food jars, and so much more is made easier with this brush trio. It suctions right onto the side, bottom, or back of your sink — and with the help of a little soap and hot water, the brushes work to clean the exterior and interior of your holders at the same time.
10
Best New Swaddle
Zen One — Gently Weighted Swaddle
Allow us to introduce you to your new best friend: the Nested Bean swaddle. It has a very light but noticeable weighted "bean" in the chest area of the blanket that mimics the feeling of a parent's hand.
It's machine-washable and can be used with or without the arms, depending on your baby's preferences.
11
Best Hygiene Helper
Baby Nail Trimmer File With Light
Little claws can grow fast, and the last thing you want to do is hurt your baby while trying to trim their fingernails. This nail trimmer comes with three different cushioned pads, each designed for different stages of your baby's growth.
12
Best Timed Sleeper
Sleep Miracle Soother
Tired of shushing your baby to sleep? This baby gadget acts just like a sound machine. It provides 15 to 30 minutes of continuous shushing sounds, making it easy to follow Dr. Harvey Karp's The Happiest Baby on the Block technique. It's easy to take on the go, too, which makes it perfect for long car rides.
13
Best Sleep Helper
Baby Rest Night Light and Sound Machine
This night-light-and-sound-machine combination is the perfect baby gadget to help keep the entire family on the same sleep schedule. Easily controlled by a phone app, you can set different times for the machine to produce a soft glow for calm dreaming or gentle sound for sweet waking.
14
Best For First Foods
Fresh Food Feeder (Set of Two)
When your teething tot tosses away any teether you offer, give them what they really want: food! Fill this feeder with their favorite fruit, and watch them go bananas as they chomp away.
15
Best Binkies
Paci Weaning System
Pacifiers help soothe your baby during the early stages of their life. However, by the age of 3, extended pacifier use can start to negatively affect your baby's budding teeth. Start the weaning process with the Frida Baby Paci Weaning System.
The five-pacifier system was created with the help of a pediatric dentist. Each paci nipple is shorter than the previous one, so they can be used until your kiddo is totally weaned off.
16
Most Useful, Period
Nosefrida SnotSucker Kit
This is an item first-time moms and dads might not know they need, but any experienced parent will tell you what a lifesaver this SnotSucker is. This baby gadget will safely unclog your little bee's nose so that they can breathe more easily.
17
Best for Accurate Weight Measurements
Infant and Toddler Bath Scale
This popular baby scale will give an accurate reading on your baby's weight, even if your little one won't stop wiggling around the entire time. As your baby grows, the scale converts easily to a toddler scale.
18
Best for Booties
Baby Bum Brush
If you've ever spread diaper rash ointment onto your baby's bum, you probably still have the remnants of it under your fingernails right now. Keep crusty fingers at bay with the editor-favorite Baby Bum Brush.
This set (which includes a travel-sized brush) glides the perfect layer of rash cream onto your little one's bum without creating a caked-up mess.
19
Best Middle-of-the-Night Helper
Electric One-Step Formula Mixer Pitcher
Midnight feedings are a necessary part of caring for a newborn. Stumbling into the dark kitchen and stubbing your toe while sleepily trying to make a bottle doesn't have to be, though!
The Baby Brezza Electric One Step Formula Mixer is the key to easy nighttime meals. Simply mix your little one's preferred formula with water, and then press the button. The mixer paddle blends everything without the yucky clumps, and stores up to 28 ounces at a time.
20
Most Convenient Potty
Portable Potty Urinal
When their diaper stage eventually ends and big-kid undies become the norm, there will be plenty of last-minute pleas for a potty break … with no bathroom in sight.
The genius One Done Portable Baby Potty gives your tot a place to go when holding it in just isn't an option.
21
Best Hands-Free Assistant
Baby Bottle Holder
If there were a job application for parenting, one of the skills required would be the ability to grow three extra arms to catch all of the bottles and pacifiers your cutie will likely throw across the room, drop on the floor, or fling mid-tantrum.
The Babaste Baby Bottle Holder lets your independent tot feed themselves while the baby gadget stays stationary, in order to prevent bottles from flying around the house.
22
Best Hip Carrier
Hipseat Baby Carrier
Lugging around your growing tot can wear your back and biceps out: Make toting around your little one easier with the TushBaby.
Designed to balance the weight of your baby from the newborn stage all the way up to toddlerhood, the TushBaby features four different positions to safely hold your baby at every stage. With seemingly endless pockets, you can enjoy a stroll around the block and leave the diaper bag at home.
23
Supportive Sleep Device
Lulla-Vibe Vibrating Mattress Pad
This soothing, vibrating mattress pad can be slipped underneath your sleeping (or almost sleeping!) baby to calm their nerves. If they're fussy, it might just take some good vibrations to settle them down.
24
Best Multifunctional Bath Toy
Floating Baby Bath Temperature Thermometer
Bath time is a wonderful way to relax your baby for restful sleep. Make sure that the water is baby-ready with this cute floating thermometer.
Once you've filled the tub with water, pop in this duckie-shaped baby gadget. It will read the temperature and indicate if the water is too hot or too cold.
25
Most Innovative Spoon
Silicone Soft-Tip Training Spoon
When your little one is learning how to feed themselves, it can be a fast and furious experience that involves a lot of mess … and not a lot of food ending up in their mouth.
This super-flexible, soft-tip training spoon encourages your tot to learn how to feed themselves. Since it's small enough to fit into their tiny hands, your tot will actually start looking forward to mealtime.
26
Best Baby Food Maker
Duo Meal 5-in-1 Food Prep System
When your baby starts eating solids, this all-in-one baby food maker will be an absolute lifesaver. Not only does it steam and cook multiple portions of veggies and meat, but it also purees them to your choice of texture — depending upon how your baby is progressing with their chewing and swallowing.
It should also be noted that the puree and steam function makes amazing cream of potato soup: Just saying.
27
Best Bassinet
Smart Sleeper Bassinet
There's little this bassinet can't do! Developed by pediatrician Dr. Harvey Karp, this sleeper is a responsive bassinet that reacts to your baby's motions by rocking and playing soothing sounds. It's completely genius, and if you can swing the price, it's worth every penny.
Cat Bowen
Parenting Editor
Cat Bowen is the parenting editor at BestProducts.com where she researches all of the best products for families from pre-conception through their teen years, focusing on matching scientific evidence with real-life needs.
This content is created and maintained by a third party, and imported onto this page to help users provide their email addresses. You may be able to find more information about this and similar content at piano.io
Advertisement – Continue Reading Below